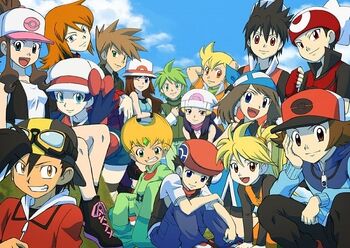 Every trainer is a person and every person is different even if they're all humans, that's why there's no such thing as a Humandex. People have dreams and experiences, hopes and knowledge that makes them unique among even their own kind.
A background is the quick and easy summary of your character, a chance to expand on who they are. Ex. "the most interesting man in the world" or "wallflower"
Below are some sample backgrounds to make things easier or if you need one fast.
At least he looks pretty
Edit
"Looks aren't everything...but they're better than nothing, right?"
"Why go outside? Everything you need to know is right here in books!"
Just an average guy
Edit
"If you were an ice cream flavor, you'd be vanilla."
"You don't like people, and they tend not to like you."
Fitness Training
Edit
Maybe you're a career soldier, maybe you're just a fitness nut. Either way, check out that body.
Old Timer
Edit
Age comes with wisdom and experience, and bad hips.
Quick and Small
Edit
You're kind of skinny and weak, but smart and quick.
You're the kind of guy that's likely to have nicknames like 'Knuckles' or 'Spike'.
Silver Tongued
Edit
You always know just what to say, but it's best no one ask you to get sweaty.
Street Rattata
Edit
Growing up on the street is rough. Well, for all those other suckers.
Super Nerd
Edit
You're smart and cunning, but your social skils...
Wild Child
Edit
Maybe you were raised by Mightyenas. Or maybe you just had lousy parents.